- How enormous?
They would stand 125 metres or 415 feet high.
Thatís about the same height as the top light on Chatton Mast.
Or more than 6 times the height of the Angel of the North.
Itís the same height as a 36-storey building.
But there arenít any 36-storey buildings in Northumberland.
Indeed, there arenít any 36-storey buildings in the North-East.
In fact, there arenít any 36-storey buildings anywhere in England until you get to Canary Wharf in Londonís Docklands.
- Visible from miles around
The turbines would be visible from at least 25 miles away.
This is a lowland area - you can see Chester-le-Street from Hulne Park.
The wind turbines in North Northumberland would intrude on an area bounded by:
The National Trust viewpoint at Ros Castle
Northumberland National Park
The Cheviots
Yeavering Bell's iron age hill fort
Countless archaeological sites, including Cup & Ring marked stones
St Cuthbert's Cave
- Wrecking the view
The turbines are proposed for a highly sensitive area, overlooked by:
The Castles at Dunstanburgh, Alnwick, Bamburgh, Ford and Norham
Flodden Field
The Farne Islands
Chillingham's unique Wild Cattle Park
The Heritage Coastline Area of Outstanding Natural Beauty
The Special Protection Area of Holy Island
Any development that will have such a huge visual impact on our natural and cultural assets must be opposed for the good of tourism and rural regeneration.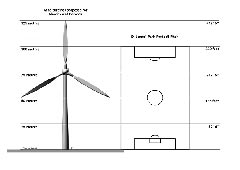 - Intrusive
36-storey buildings stand still. Turbines donít though.
They flail their blades around.
And the turbine blades wonít even flail around in time with one another, making them even more intrusive.
To try to put all this in perspective, a 125 metre, 415 foot turbine would tower above an upended St Jamesí Park.
- Span
The blades on the turbines proposed are wider, by a distance, than the wingspan of a jumbo jet.
Wider in fact than the football pitch at St Jamesí Park.
Take a look at the graphics above.